What are Fragments?
Fragments are the points you earn in Daily Play and Earn that are used to calculate your daily $GODS rewards. Fragments are non-spendable and don't have any other in-game functionality or utility, other than to calculate your daily rewards.
How do I earn Fragments?
Fragments are earned from the first 10 Ranked matches you play during any given day, based on UTC time.
Winning in Casual mode will not reward you with any Fragments.
Only wins generate Fragments and the first 3 wins (out of your first 10 matches) generate double the Fragments! So even if you can only win 3 matches a day, you will get a large portion of the potential Fragments you could earn on a given day.
The amount of Fragments you can earn from winning a match depends on various factors, such as your Rank, how many wins you get and the Shine Quality of cards you use in the match. For an in-depth breakdown of how this works, please see our blog post on the Reward Calculation here.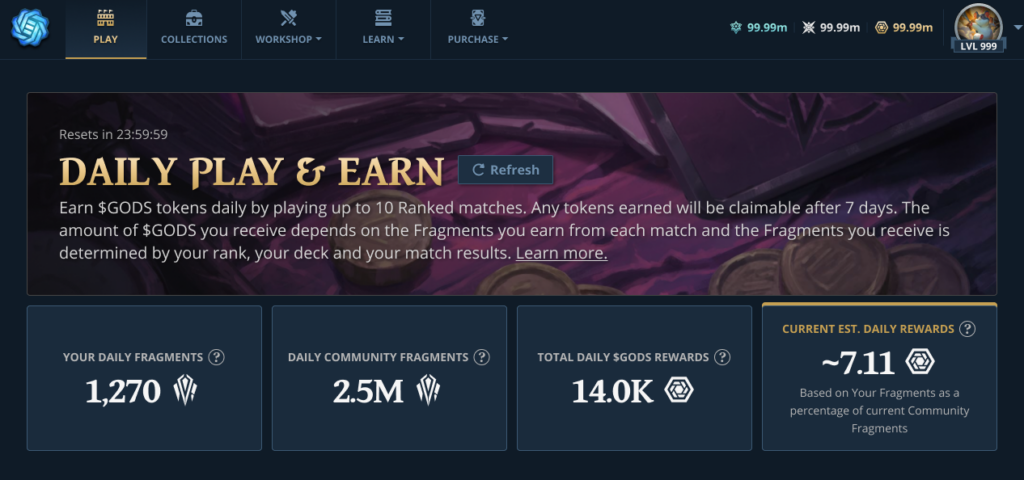 How do Fragments become $GODS?
The calculation for how we determine the amount of $GODS tokens you earn during a day is:

(Your Daily Fragments / Daily Community Fragments) * Total Daily $GODS Rewards = Your $GODS Reward for Daily Play & Earn
Daily Community Fragments is the total Fragments earned by all participating players during that day and the Total Daily $GODS Rewards is the total amount of $GODS that can be earned on that day.
Parts of this formula constantly changes throughout the day (for example, if you play and win more matches, this increases the figures for Your Daily Fragments and Daily Community Fragments). This means that while an estimate of rewards is displayed during the day, the true amount of potential rewards can't be known until the day is completed.
For more detailed information on how Fragments are calculated, head over to our blog about Reward Calculations.