Common Tips
Why is nothing happening when I try to add my wallet?
If the "+ Add wallet" button doesn't respond, ensure you have pop-ups enabled in your browser and allow any exceptions for godsunchained.com or immutable.com (t

his process requires the Gods Unchained website to open popup windows from Immutable X and GameStop/MetaMask throughout this journey);
Check out the troubleshooting steps in Allowing pop-ups for GodsUnchained.com;
If this still doesn't work, try refreshing the page and logging back in to your wallet account again.

Known Issues
GameStop Wallets
If you're having trouble adding or using your GameStop wallet, try these troubleshooting steps:
If you have a MetaMask browser wallet installed, try disabling it or removing it entirely if you don't use it;
Disconnect it from https://market.immutable.com/ if connected (click on wallet address > Select disconnect);
You should now be able to select the GameStop wallet when adding it to godsunchained.com;

If this still doesn't work, o

pen your GameStop wallet extension and go to your Profile;
Set Default Browser Extension to Off;
Refresh the

Manage Wallets

page and try adding the wallet again.
Multiple Wallets
If you have multiple wallet extensions installed in your browser, be sure to check out this IMX Support article about:
"Address is already linked" error
If you encounter the error "Address is already linked", it means this

wallet has already been added to a different Gods Unchained account and you will not be able to link it to a second account. To remove it from an account, simply click the Remove Wallet option on the

Manage Wallets

screen (remember, multiple accounts are not permitted under our Terms and Conditions);

You may be accidentally trying to connect the same wallet address without realising it. Check that you selected the correct wallet address in the

Manage Wallets

page, and that your MetaMask/GameStop extension and the Immutable X popup window are all the same address to ensure you are connecting the right wallet.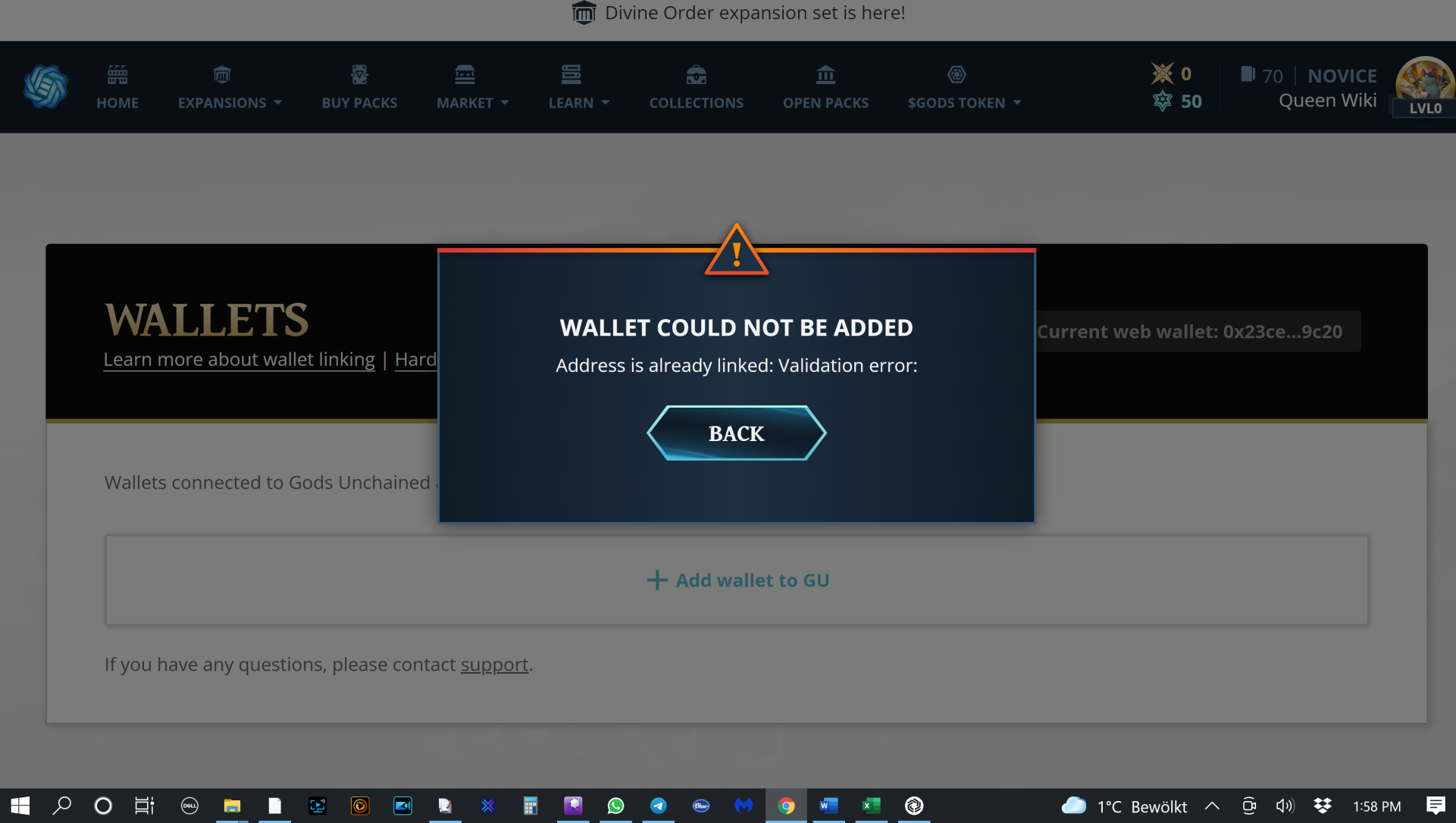 Common Error Messages
Here are some common error messages when attempting to connect your wallet to Gods Unchained.
Error: Link iFrame Closed
Wallet could not be linked after attempting to add it to godsunchained.com.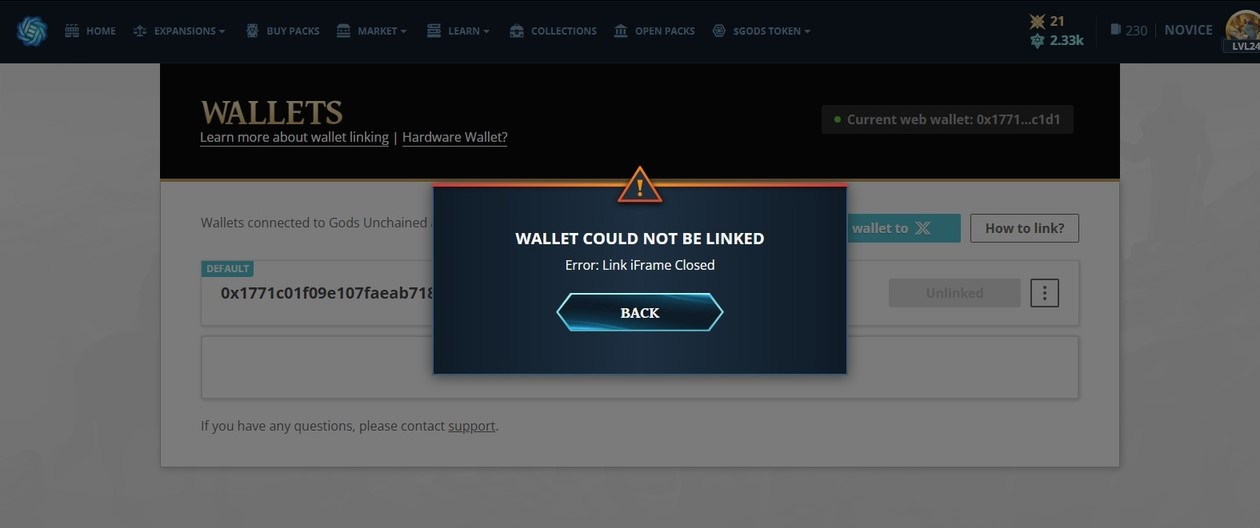 Make sure you have set the setting "This can read and change site data" to "On all sites" in the MetaMask extension settings: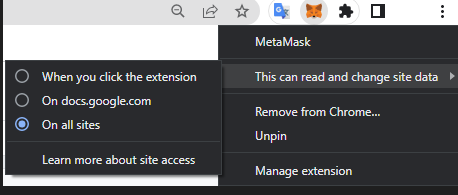 Ensure there are no pop-ups blocked or AdBlocker alerts

Clear your browser's cache and cookies

Reinstall the MetaMask extension and ensure your network is set to Ethereum Mainnet

Try again on other web browsers as MetaMask currently works best with Chrome, Brave, and Firefox
Error: "undefined"
This is typically a HTTP/S or web traffic issue, usually caused by third-party tools or plug-ins, and how they interact with our website.
It usually relates to anti-virus/firewall software, browser extensions, browser and computer security software.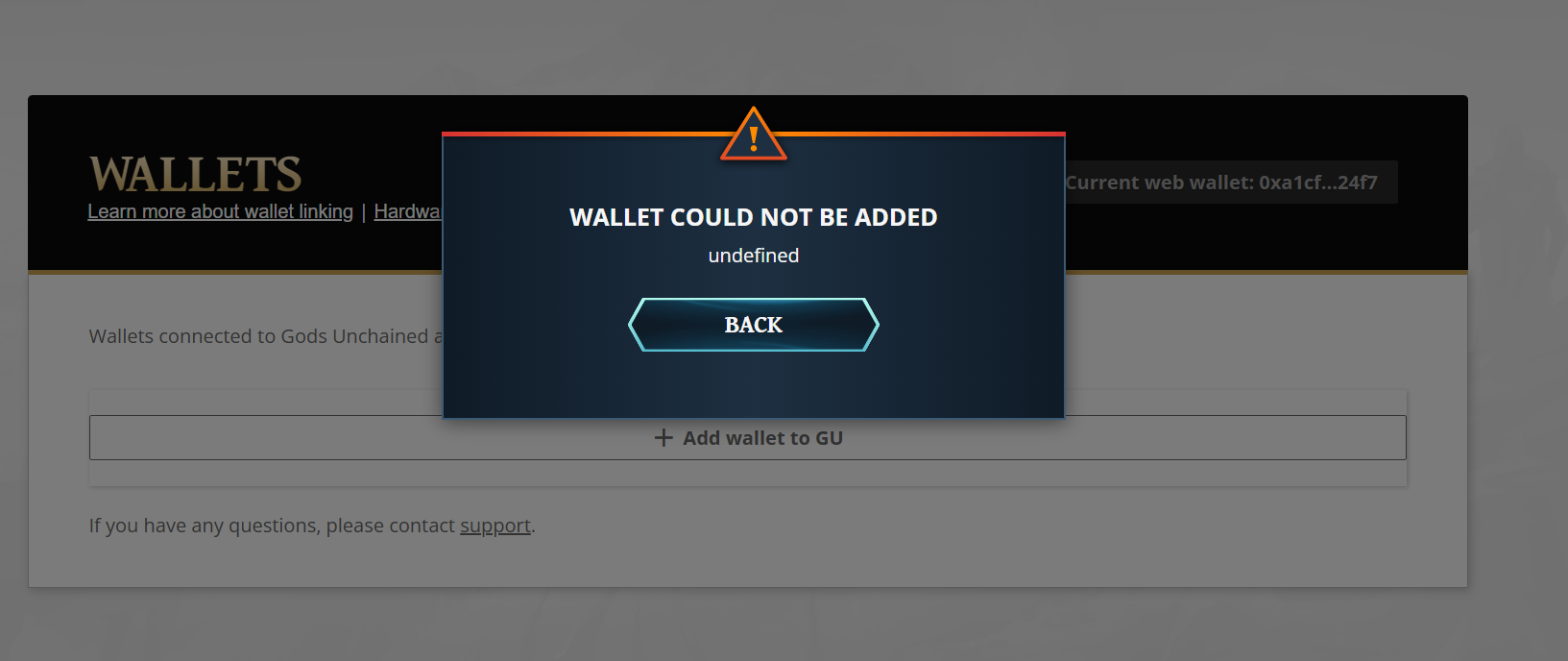 Anti-Virus Software
Bitdefender
If you're using Bitdefender, please try disabling the "Encrypted Web Scan" setting:
Protection → Online Threat Prevention → Encrypted web scan - this option should be disabled;

If you're not using Bitdefender: Please try disabling your anti-virus program completely.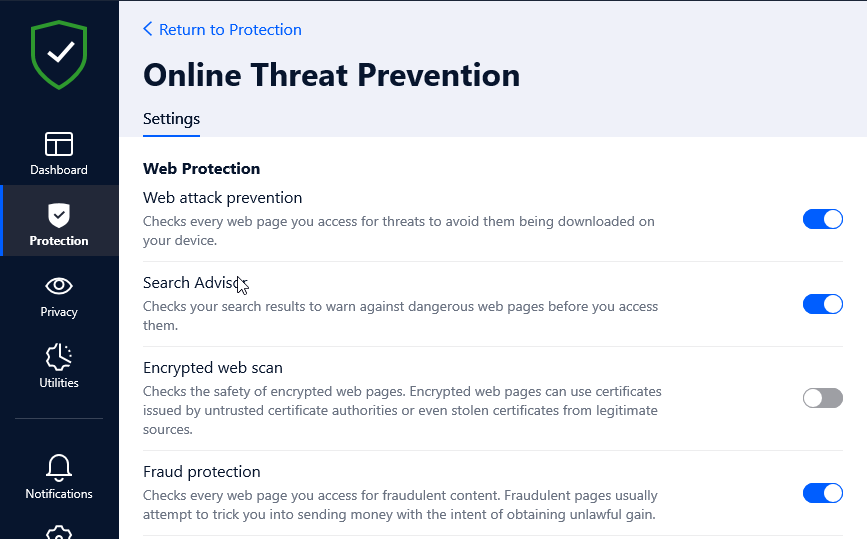 Windows Defender
If you receive a notification from Windows Defender while attempting to launch the game, go to your Windows Security settings and open the Virus and Threat Protection tab. To correct the issue, examine your Current Threats and release godsunchained.exe.
VPNs
If you're using a VPN, try disabling this temporarily or whitelisting Gods Unchained

Otherwise, try testing a VPN if possible
Still not working?
Try an alternative web browser such as

Brave, Chrome, or Firefox;

Test an alternative Internet connection such as mobile/cellular vs WiFi/LAN;

Try changing your DNS server settings (or ensure you don't have a custom DNS set);

Disable any proxy or firewall software (for troubleshooting purposes);

Try another computer.
If you're still experiencing issues, please reach out to the Support Team for further assistance.